Showing 1 to 3 of 3 (1 Pages)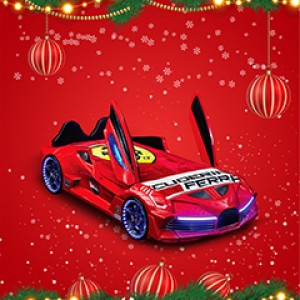 Double Car Bed, Double Race Car Bed Australia

How to Select Double Race Car Bed for Kids?
Our children are the dreamers, the athletes, the storytellers, actors, and artists. Kids are the playtime visionaries who are ready to think, explore, and learn via uninhibited play. Choosing a kid's bed is extremely tough. Because, there are various factors to take into consideration such as safety features, size, style, and durability. Keeping a twin bed for your children is one of the best decisions which make your kids happier and playful. It also makes your children learn, be independent, move and explore well.
Have you ever desired to give wonderful racing car beds for your kids? Are you want to convert your kid's room into the racetrack? Do you plan to sleep your two kids in the same? Kids double bed? Hurry Guru offers the best kids double race car beds. Double Kids Race Car Bed is one of the best space-saving options for your children. It is good for your children's sleepovers. It will be suitable for your children's play zone bed. We provide the latest double race bed for kids all around the world. How to pick the best one? Let us glance to know whatever you must need in your kid's bed.
Lovely Double Race Car Beds For Kids
• Check For Side Protections: Whenever we buy beds for our kids, we always have to consider the side protections. Side protection will maintain your children without falling. It gives simple access in and out of the bed. We have to check for the sharp edges and nasty corners.
• Consider Antiviral Mattress Protector: Hurry Guru's double bed is proven to give 99.99% resistance against bacteria and viruses. It is safe for all children with asthma, or allergies. Kids' double race bed is hygienic and safe for your children.
• 100% Water Proof: We have to select a 100% water-resistant bed for your children. It keeps your children relaxed and safe. We don't have to worry about the unexpected stains, splits, moisture, and bed-wetting on our children's beds. It prevents liquid spill by children or pet animals when regular usage. If your kid may put the liquid on the bed, it gives 100% prevention over any liquid poured.
• Standard Double Bed: Hurry Guru's kid's double bed looks realistic which includes all the unique features such as decals, rims, and tires. It is made with high hygiene and skin-friendly material. It exactly seems to be the small sports car. So, your kid will experience rush-free skin and a diaper-free night. We have to make sure the kids' beds are comfortable and durable. It gives long-lasting durability.
• Material Quality: Hurry Guru beds are made with top-quality material. It includes a fabric mat that protects your bed from bedwetting. So, it prevents any liquid or urine from going inside or down. It improves water vapor removal. It does not contain any VOC, BPA, Splinters, or Phthalates. It works well for every child. It helps your children soothe for a cozy night's sleep.
• Compactable: Every parent should check compatibility before buying any bed for their children. Hurry Guru's double bed is comfortable and has soft materials. It is important for your children to relax down and sleep. It will be suitable for any room in our house. It will fit in the kids' room, guest room, and bedroom.
• Think about Bed Size and Room Size: It is necessary to think about the size of the bed and room. Our kids will need the best space on the double bed to relax down properly. So, your kids will feel fresher and sleep healthier.
• Safety: Parents should look for safety as the priority. We have to consider the sides and edges of the bed, whether it is sharp or ruff. Hurry Guru beds are reducing the risk of overheating and suffocation. We have to see our kids while they are playing and sleeping. It ensures your kids restful night sleep forever.
• Make Sure Complete Quality and Low Maintenance: We have to think about the overall quality of your children's bed before choosing your bed. It does not contain any bed bugs. A good quality bed long lasts forever. Kids' beds should be easy to clean, no embedded, color, and chipping.
• Playful Bed: Generally, children love to play while buying kids' beds, we have to select the right car-style bed or game-oriented one. It keeps your child active and playing games. It develops a well-balanced and playful space. Hurry Guru offers the beds at a reasonable price. It enhances your children's mental and physical development.
Don't miss this amazing opportunity to transform your kid to gain responsibility, ownership, and self-confidence. Maintaining a special bed for your kid to play and sleep. Hurry Guru's bed will make our children will enjoy uninterrupted sleep forever. Hurry Guru beds give a fun experience. It encourages your kids' current needs and future. It motivates your children to playful and sleeps well. Before buying any kid red, we have to do the right research. Most Hurry Guru bed users have satisfied with having a good night's sleep. Also, buy quality trundle beds for kids at Hurry Guru!
Nothing makes children happier by presenting them with car style double bed. Just shop your kids' beds wisely.