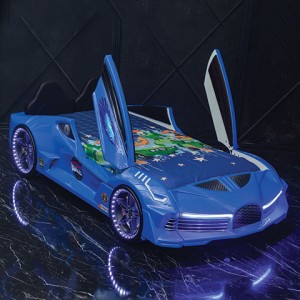 How to Select the Perfect Instock Kids Car Bed for Your Kids?
Cars are one of the most-loved toys for kids of every age group. From your kids' infancy, they will easily get attracted to this car. Having furniture like a kid's favourite toy is a very pleasant feeling. In addition, full-size car beds are extremely lovable toys for kids because of their bigger size. Having car beds makes your kids feel like they are in the actual car. Giving the best in-stock kids' car bed is a good way to keep your kids happy, and entertain them forever.
Being a parent, we should never regret buying car beds that give our kids memorable joy and healthy good sleep in your kid's room. Hurry Guru's Instock Kids Car Bed is one of the best brands which offers race car beds with various color and model options.
It is necessary to choose a kids' bed that is comfortable, secure, and suitable for kids to get a peaceful sleep and rest. There are many factors that have to check before buying a random kid's bed. The Ten things to keep in mind before buying any Instock Kids Car Beds.
The Top Ten Features to Consider Before Getting Instock Kids Car Beds:
1.

Check For Quality of the material:

Before buying anything for your children, parents should check for the quality. Hurry Guru's Instock Kids Car Bed is made up of non-toxic ABS plastic, top-quality leather, and premium quality wood side frames. We should not choose low-quality material because it causes irritation and injuries. Hurry Guru offers various kids' car beds for sale in Australia. It comes with dual mattress support which is suitable for 1 to 13 age kids.
2.

Suitable:

As a parent, we must think about our children's comfort and satisfaction. Hurry Guru's Instock Kids Car Bed offers you a comfortable bed for toddlers and growing children. In stock Kids, a Car Bed does not occupy more space like any other usual beds, ships, and castles. It can be easily removable, and washable. It removes all troubles of the parent in keeping your children sleep healthy and play actively.
3.

Simple Installation:

It is important to consider the easy installation. Most of us living in a busy lifestyle, we don't have time to spare for taking of children. Hurry Guru's Instock Kids Car Bed provides easy-to-install kids' race car beds. We can also adjust the kid's car beds according to your children's height.
4.

Unique Features:

Always check for the unique feature. Hurry Guru's Instock Kids Car Bed comes with wireless remote control for engine sound effects and LED lights. It also includes the front headlights and upward-opening doors. It has a sidelight, a wheel light, and Bluetooth connections.
5.

Size, and Density:

We must prefer the exact size of the children's car bed. Because children's beds must not be too big or too small for your kid. Hurry Guru's Instock Kids Car bed is available in all sizes. We offer only the perfect matchable kids' car beds for little-grown children and toddlers.
6.

Longevity and Dimensions:

Parents must have to look for the dimensions and longevity of the kid's car bed. It is reliable and sturdy which enhances its durability. It reduces the time and hard effort of every parent. Then, the Instock Kids Car bed will be placed in the room comfortably. It is important to do the functional atmosphere and space-saving in your room.
7.

Go For Designs:

Most parents search for the theme, color, and designs options in the car bed for their children. Hurry Guru's Instock Kids Car beds includes gender-neutral color, themed car beds, and designs options in Australia. Wheels, Racing stripes, and a classic theme in the kid's car bed.
8.

LED Lights and Decals:

Nowadays, most kid's car beds come with pre-installed 3D decals, and LED lights. Hurry Guru's Instock Kids Car Bed is made up of parts and ergonomics. In stock Kids, a Car Bed will be comfortable as well as an extra play zone. It protects your little ones from falling and danger.
9.

Consider Bed Structure:

Being a parent, we must never purchase kids' beds with toxic paints, loose structure, and sharp edges. The kid's bed texture and structure must be convenient for your kids. Hurry Guru provides several brands and models of kid's car beds with special specifications.
10.

Safety Features:

Safety is one of the main things we should think about before purchasing anything for our children. Hurry Guru designs their children's beds with all the precautions and safety measures. It comes with supportive slatted bases, raised side panels, and anti-bacterial surfaces.
Hurry Guru's Instock Kids Car Bed helps your children to sleep well. Your children will love your gift which makes them sleep easily at night time. One more thing is that we should ask our children whether they like this car bed or not. It is also an inexpensive kids' car bed that comes under the budget. Moreover, it gives a good bedtime routine, and a playful zone for your children.
Hereafter, you no longer have to bother about your children's sleep time with Hurry Guru. The kid's car bed is better than cribs, and baby cots. Your kid deserves the best one.
Don't forget to make your kid happier and experience the fun forever. Your children will feel comfort and warmth forever. Let's be happy to give a fun life to your little one.
Showing 1 to 12 of 12 (1 Pages)