Showing 1 to 6 of 6 (1 Pages)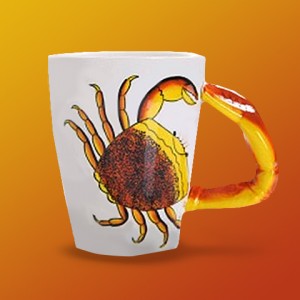 3D Coffee Mugs Australia, Personalised Coffee Mugs Australia, 3D Coffee Mug Sets Australia
How to Buy Personalised 3D Coffee Mugs Sets in Australia?
Coffee mugs come in various types of materials, designs, sizes, and shapes. Based on the survey, more than 80% of people have an emotional attachment to their coffee mugs. A favorite coffee mug is an important thing in our regime. Nothing is better than having a 3D, ceramic, thick, dinner-style coffee mug to drink coffee in the morning to till night. Because of the huge types of 3D Coffee Mugs options, selecting the perfect 3D coffee mug is not a simple thing. Each coffee lover will get happiness with each sip in the 3D coffee mug.
Are you want to buy a good 3D coffee mug for home and travel? Here are the important things to consider if you are searching for a new 3D coffee mug. Just keep reading to know how to choose the luxury 3D Coffee Mug Sets Australia for daily use.
The Top Ten Tips to Pick Luxury 3D Coffee Mugs Sets:
• Material: It is necessary to check the material quality of your 3D Coffee Mugs. It is designed of what material will impact your coffee tastes and heat resistance. Hurry Guru offers you a 3D ceramic and simple-grip handle. People will love to have in their morning brew or evening tea. We can use it for our office or home. Moreover, we can also use it as a pen holder. It is one of the perfect gift options for your children, parents, and everyone. Most animal lovers will like our 3D coffee mug.
• Size: We should consider the coffee mug size. The standard 3D coffee mug holds up to eight to twelve ounces of coffee. You may refill the coffee mug whenever you want to have coffee. Hurry Guru also provides large coffee mugs which can hold from twenty-four to thirty-six ounces. Moreover, we can also get the extra-large 3D coffee mugs which include 64 ounces.
• Unicorn Handle Design: Most coffee drinkers like to design in the 3D coffee mug. Hurry Guru designed their 3D coffee mug in a different way especially. Animal mugs? We provide 3D coffee mugs with animal patterns and colorful designs. All of our 3D coffee mugs have been designed in unicorn handle designs. Are users impressed with our 3D coffee mugs shaped like animals, and cartoons? Children and adults feel fun drinking coffee in our 3D Coffee mug. Moreover, it is suitable for our home and workplace.
• Color: The color of the coffee mug is important when it comes to unique and personalized coffee mugs. Hurry Guru offers the best 3D coffee mugs in good glaze colors. Hence, it is safe to use for kids and adults. And more advantage is that our coffee mugs will never fade away easily. So, you can use it in the microwave.
• Smooth Rim: Whenever we decide to buy a 3D Coffee mug, it is essential to think about the rim of the coffee mug. The rim should be smoother and must not rough. If our 3D coffee mug has sharp rims or edges, it will hurt our mouth, and hand badly. Moreover, it is convenient to give it to your children and older people without any worries.
• Choose Unique and Latest 3D Mugs: No one is interested in buying a boring coffee mug. Hurry Guru provides you with trendy and unique 3D coffee mugs. Children will genuinely love to get it as a gift.
• Comfortable: It is important to check whether your 3D coffee mug will be comfortable to use or not. We must ensure our 3D coffee mugs are made of top quality or not. Hurry Guru giving amazing quality 3D coffee mugs. It is good and very convenient to drink any beverage. With a comfortable grip, you will no longer have to bother about hand burning.
• Long-lasting and Durability: Everyone should check for durability and longevity before buying any 3D coffee mug. Hurry Guru designed their 3D coffee mug with ultra-high durability. Our 3D coffee mugs are made of strong ceramic material. It does not break down easily. Hence, our 3D coffee mugs are durable, maintain your coffee warm.
• Dishwasher Safe and Chip-Resistant: Hurry Guru is made of top-quality ceramic material. It is calcium-free and lead-free. It is suitable for cold drinks and hot drinks. Hence, it is 100% safer to use in the microwave and dishwasher.
• Multi-Purposes and Refund Policy: Choosing the 3D Coffee mug is for multi-purpose, it is perfect for tea, coffee, cereal, and cocoa. People can also gift this 3D Coffee mug by filling them with pens, chocolate, and candies.
The important thing is to check for the refund policy. Hurry Guru provides you with a 30-day refund policy. If for any defective reason, you want to return your 3D coffee mug, then, kindly let us know. We will refund your full money without any hassles. And also get the new replacement of our 3D coffee mug.
Hurry Guru offers the perfect 3D Coffee Mug sets, so people don't have to spend hours trying to get a good coffee mug. We provide online 3D coffee mugs sets in Australia which are colorful, portable, designed, and trendy.
It is 100% worth your investment. There is nothing to regret and compromise with Hurry Guru. Don't miss this nice opportunity to enjoy your coffee with our 3D coffee mug Sydney. Be happy to have a refreshing and good coffee daily.